Digital disruption in architecture
By Jonny Breen, Digital Principal, Context Architects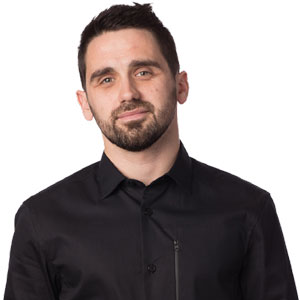 Jonny Breen, Digital Principal, Context Architects
Every industry grapples with how to adapt to the power of digitization. Creative industries like architecture are no different - how to harness innovation for good, upending without abandoning its lower-tech craftsperson origins. The architect's vision sketched out by hand and mocked up in card and plywood.
Context Architects is one of the sector's earliest adopters of digital technology including virtual and augmented reality (VR and AR) and Building Information Modelling (BIM) as part of its digital client experience. Operating nationally from North and South Island studios, this 80-person practice has been in business for 15 years, working with many of New Zealand's best-known retailers, banks, tourism operators and government bodies.
We talk to Context's Digital Principal Jonny Breen about how technology has disrupted architecture and bolstered the productivity and efficiency of the construction industry at large, what this means for clients and why now is the time to go digital if you're an architect.
Jonny Breen is a technology professional with a background in architecture and has been responsible for transforming Context's workflow into a fully digital process, reshaping the client's experience through disruptive tech.
Democratizing design
We use VR to give our clients the ability to experience their unbuilt space months, sometimes years before work begins on site. VR means we can bring our clients closer and engage them in the design process sooner and more meaningfully - a significant shift from how things have been done traditionally.
In the past, architects expected clients to take a leap of faith and spatial thinking, trusting in two-dimensional drawings to deliver a building that hits the brief, creating emotional and financial returns. VR eliminates this uncertainty, bridging the understanding gap and creating trust.
Communicated in a 1:1 medium where there's no chance of misinterpretation, VR enables clients to understand proposed design solutions, creating a feedback loop where questions can be raised, issues flagged, and problems eliminated long before they're encountered onsite. VR can be employed at any stage in a project, from massing communities to finding the right building forms and choosing paint colors. It enables non-specialists to get involved, bringing contractors, users, and key stakeholders into the design decision-making process and demystifying what we do.
Architects undergo many years of training to enable them to imagine unbuilt spaces as they'll appear in real life. Now clients can access this understanding simply by putting on a headset or launching an AR app.
Why digital?
Sharing the spatial experience is not only beneficial to clients, it's also a means of thriving as an architectural practice.
Since the GFC, demand for architectural services has flatlined. In New Zealand, other consultants including planners and engineers now share the space once held by architects - in some cases, leading projects. Increased legislation also means architects must navigate a more regulatory environment with greater compliance on the same fees.

The role of the architect is shrinking and so are margins. To adapt, the onus is on us as an industry to find new ways to attract clients, save time and cut costs. Going digital does all three.

At Context, we still start with a sketch, but our digital workflow means AR and VR are built-in to our service and clients can expect an industry-leading digital experience. This approach to technology is rooted in an important reality: that architecture is not only an art form but a service industry is driven by client demand.

VR represents an opportunity for architects to step away from the drawing board to demonstrate our value to clients and engage them in our work. AR, in particular, allows us to show ideas in more detail for better, more accurate outcomes. We use AR to communicate with clients as well as contractors. AR can be used to view the planned building on an empty site and work through construction sequencing and detailing on the job.

Where to from here?

Most traditional architects now recognize the power of VR and AR in presentation, but the future lies in using VR as a seamless design tool – an innovative means of testing ideas in their infancy.

Unlike drawings, renders and even 3D models, VR provides an immersive environment where architects can experience how people will inhabit a space long before assigning preconceptions or progressing an idea too far along the track. It goes without saying that problems are easier and less costly to fix in the studio than they are onsite.

While critics may assert that technology strips away an architect's artistic vision, VR actually does what all good technology should: bring the maker closer to their craft. It puts the designer in contact with their work for a fluid and highly effective design experience. And it doesn't set aside the traditional tools of pen and paper.

In 2015, we adjusted our workflow to make constructing virtual buildings a part of our design process. At the time, there were skeptics among our team of then 60-people, but soon architects and designers at all career stages and technical abilities began to see the power of VR and AR to aid their process, improve outcomes and enhance their clients' experience.

Increasingly, we're seeing our clients use the VR models we've made for a range of purposes reaching well beyond architecture. We're now pricing for retail and residential packages where comprehensive VR models are issued to help our clients attract tenants and buyers. VR eliminates the uncertainty of buying or leasing off the plan by showing the design potential of an unbuilt space.

Recently, our clients have started using our VR models in staff training; a tool to familiarise their team with new store designs weeks before the stores open. We're exploring this immersive, experience-based training with several clients across a range of industries, including banking to help train staff for extreme scenarios such as violent and abusive behavior. To us, this is as important as design itself: ensuring our clients are left with a space they love, that will perform and create returns for their business long after the design is realized.

Crossing borders virtually

For Context, our digital workflow has enabled us to deliver projects throughout Australia and further afield without having a permanent physical presence in these countries. And the same can be done for other New Zealand practices.

To date, New Zealand architects have been left behind in exporting our services abroad, but the demand exists. Recent research revealed that if treated as its own sector, design would contribute $10.1 billion to New Zealand's GDP - on par with retail trade, food and beverage, and tobacco manufacturing.

With design firm acquisitions at an all-time high, going digital isn't just a trend anymore – it's a necessary exercise in future proofing our industry and celebrating what we do.